Back in the day, you had to transfer files, photos, and documents from your phone to a computer when you wanted to print them. But now, you can print from your smartphone or tablet via Wi-Fi and even Bluetooth.
Before you get started, you need to connect your printer to your home network. However, every brand does this a little differently. Even within the same brand, the way you get the ball rolling changes from product to product.
The best advice is to consult your printer's product or user manual. If you can't find yours, try searching for it online using the exact product name, which should be somewhere on the printer, either on the case or on a sticker. Only download user manuals from the manufacturer's website. Once your printer is online, you can connect your Android or iOS devices using the following steps.
Can a mobile be connected to a printer?
Downloading the app is required to connect the mobiles with printers. So, first, download the app and then click on the 'add printer option. For most modern printers, there are specific inbuilt apps to make the printing process for mobiles easy.
How do I connect my phone to my copier?
To connect your phone via the Default Print Service, go into the phone's settings, search for "printing", then select it from the results. Next, tap Printing in the list of Connection preferences, select Default Print Service and turn it on. A list of compatible printers on the network should appear. Select your one from the list.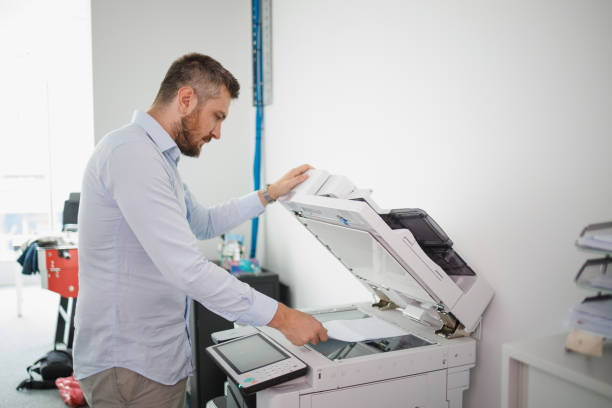 If your printer doesn't appear in the list then you have three options.
First, go back to the printer settings, but instead of selecting Default Print Service, tap Add Service. This will take you to a list of printer services for specific manufacturers. Select your brand, download it, and then open printer settings to find your model. Follow the steps in the brand-specific service to find your printer.
If that doesn't work, or if the manufacturer hasn't released a plugin, try a third-party service. These are available in the same location on the Google Play Store and they'll scan your home network for any active printers, regardless of the brand. PrinterOn and PrinterShare Mobile Print are two popular options (but we haven't tested them).
How do I connect my phone to my Xerox printer?
Android™ 4.4 (KitKat) or later operating system supports the Xerox®
Follow these steps to print from a supported Android device using the Xerox® Print Service.
From a supported app (such as Google® Gmail™), find the Print option from the app's menu, and then tap Print.
Find the option to select your printer. The Android device displays a list of printers that are available on the Wi-Fi network.
Find your printer on the list, and then tap to select it.
Make any changes to the available printing options, if desired.
Tap Print to send the print job to the printer.
You may tap Printer Settings to see additional print options.
The Xerox® Print Service Plug-in extends Android's printing feature in Android 4.4 (KitKat) to support printing on Xerox® printers. The plug-in enables printing to many Xerox® printers and multifunction printers (MFPs) without the need for third-party apps or additional print drivers or middleware. Easily print photos, Web pages and documents when your mobile device is connected to a compatible Xerox® device through a wireless network. You can control print settings including Secure Code Printing, colour, number of copies, paper orientation and paper type
How do I connect my copier to my wireless network?
Windows 10 should easily find any printer connected to the same local network via Wi-Fi.
Go to the Start menu and click Settings, Devices, then Printers & Scanners. Select Add a printer or scanner and wait for your printer to appear in the list, then select it and hit Add device.
If Windows doesn't find your printer, select The printer that I want isn't listed and follow the instructions.
Another solution could be to plug the printer into your laptop or desktop with a USB cable. This can force the computer to recognize the printer and install the drivers. After it's done, unplug the printer from USB and see if your computer continues to detect it.
If Windows doesn't already have them, the printer drivers should download and install them. If not, you can get them from the manufacturer's website.
Connect a printer to Mac
There shouldn't be any variation between different types of Macs when setting up a new printer, as long as they're using the same version of macOS. These are the instructions for macOS 10.15 (Catalina).
For the easiest way to connect, check if your printer is compatible with Apple's AirPrint (though non-AirPrint printers can still work using third-party software). AirPrint is built-in, so it eliminates the need to download and install drivers (for Wi-Fi, not Bluetooth), is easy to use and requires minimal set-up when connecting to new printers.
If you plan to get copiers for your office in Fort Worth, you can opt to buy copiers or lease copiers in Fort Worth. We can give you the option to get the copier that you want. You can contact our local copier leasing services department in your location.
If your Location is around Fort Worth, you may call us at (972) 525-0888, our personnel for copier leasing in Fort Worth will assist you.   If you are also looking for copier repair services in Fort Worth, you may contact our copier repair personnel at the same number.
Apple has a list of AirPrint-compatible printers on its website, but most modern units have the functionality.